Rated Best Mexican Restaurant in the Central Highlands
Come experience Tex-Mex and Mexican cusine at it's finest. 
Greetings! Are you in pursuit of an exceptional Mexican dining establishment but finding it challenging to locate one? Your search ends here! Allow us to introduce you to Blue Parrot Mexican Grill, proudly recognized as Vietnam's top-rated Mexican restaurant in the Central Highlands. Delighting palates with a delectable array of Mexican and Tex-Mex dishes, including vegetarian and gluten-free selections, we cater to all tastes. Our welcoming and family-friendly ambiance guarantees a flawless dining experience. Don't hesitate—join us to savor some of the finest Mexican cuisine available. We're eagerly looking forward to your visit!
Beautiful place, great food
Excellent food and lovely hospitality! Highly recommended for great meal in Dalat city
Great restaurant, owner was lovely and the food was great. Decent sized portions aswell and two lovely parrots inside.
Rodnie Bedicer
2022-10-11
Nice clean place, friendly staff, great food, would definitely recommend, also has parrots you can take pictures with.
Very nice place very friendly
Nice friendly staff. Food was really nice! Would defo recommend
Amazing food and atmosphere. Very quick and kind service. Highly recommend !!
확실히 한국에서 먹는거랑은 좀 다름 한국인패치된 메뉴들도 있음 ㅋㅋ (마지막사진 불고기타코 김치도 들어있다) 사장님 유쾌하신듯하고 앵무새가 시끄러운데 귀여움 무슨 망고쥬스는 너무 배불러서 반정도밖에 못먹었다 ㅜ 가격대가 없는편은 아니지만 나중에 달랏을 또 간다면 또 가고싶을것같다
Minh Duyen Nguyen Thao
2022-09-25
Đồ ăn rất ngon, giá cả ổn mà khẩu phần nhiều ăn no nê quên lối về =)) anh chị chủ thân thiện dễ thương ♥️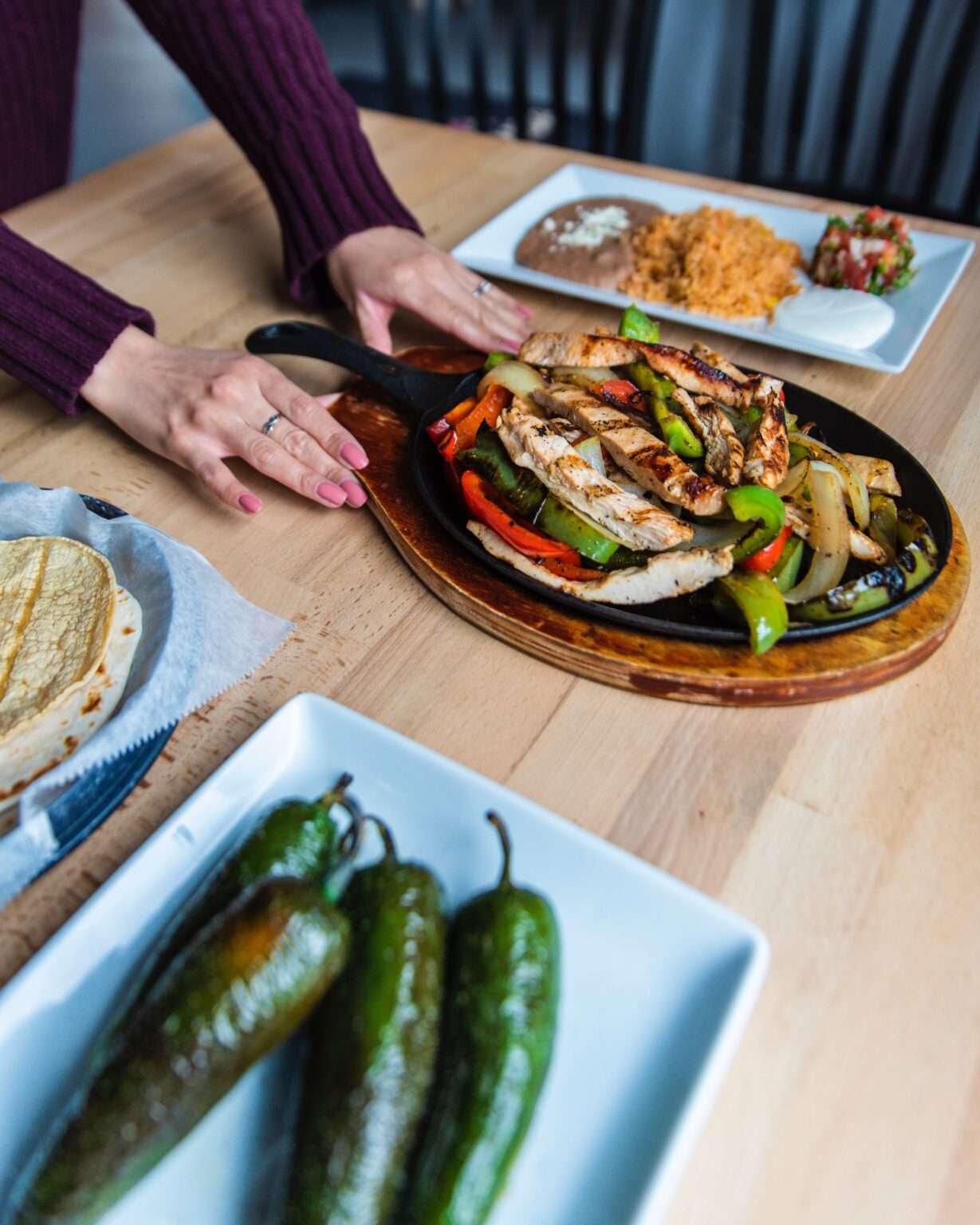 We are so excited to have created Blue Parrot Mexican Grill in 2018 after realizing that Da Lat needed a Mexican restaurant. Our main focus was to offer delicious Mexican cuisine from both Mexico and Tex-Mex. We are proud to say that we have accomplished our mission, and have even been voted the best Mexican restaurant in Vietnam. But it's not just about the food, we also wanted to create a warm and welcoming atmosphere for all our guests. We're thrilled to see that our efforts have paid off, and our customers love it too. So please come and join us at the best Mexican restaurant in Vietnam and enjoy some amazing food, great service, and a friendly atmosphere. We can't wait to see you!
The only item on the menu is "deliciousness"
Welcome to the culinary haven of Blue Parrot Mexican Grill! Embark on a sensory journey with our standout dish: succulent pork chunks luxuriating in a sumptuous chili Colorado sauce, a testament to our culinary artistry. As you revel in this masterpiece, your senses will be further enchanted by the delightful companions that grace your plate – fragrant Mexican rice, velvety refried beans, crumbly queso fresco cheese that sings of authenticity, and the harmonious embrace of two soft flour tortillas. Completing this symphony of flavors is our zesty Mexican coleslaw, a vibrant medley that adds a refreshing twist to your experience. Brace yourself for a rendezvous of tastes and textures that will linger on your palate long after the last bite. Come, join us at Blue Parrot Mexican Grill, where every dish tells a story of culinary craftsmanship and flavor finesse. Your epicurean adventure awaits!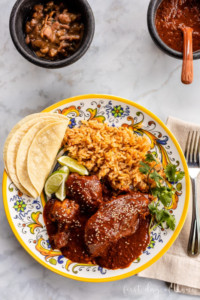 Indulge in the rich traditions of Puebla, Mexico, with our mouthwatering Chicken Mole – a beloved and iconic dish that embodies the heart of Mexican cuisine. Immerse yourself in a symphony of complex flavors that will comfort your senses. Tender chicken, meticulously prepared, is generously smothered in our house-made mole sauce, a time-honored recipe that has been perfected over generations. Each bite offers an explosion of taste, as the deep and savory notes of the mole sauce dance on your palate. To add a delightful crunch and nutty aroma, we sprinkle toasted sesame seeds atop the dish. Served alongside Mexican rice, the perfect companion to the flavorful chicken, and two 20cm house-made flour tortillas, this dish is a celebration of authentic Mexican flavors. Experience the essence of Pueblo, Mexico, with our delectable Chicken Mole. Savor the tradition, taste the history, and relish in the richness of this iconic dish that has captured the hearts of many. Come and enjoy a truly exceptional dining experience!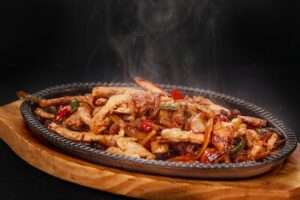 Craving a delectable delight that will leave your taste buds dancing with joy? Look no further! Our Grilled Chicken Fajita Platter is a feast that promises to satisfy. Succulent chicken, marinated to perfection, is expertly grilled with bell peppers, onions, and our secret seasoning, creating a sizzling sensation that's pure perfection. Accompanied by irresistible sides of refried beans, Mexican rice, zesty Mexican coleslaw, and cheddar cheese. Elevate your experience with optional additions like creamy guacamole or luscious sour cream. The platter is crowned with three 8″ homemade flour tortillas, delivering an authentic touch to every bite. Don't wait another moment – visit us now to savor this culinary masterpiece!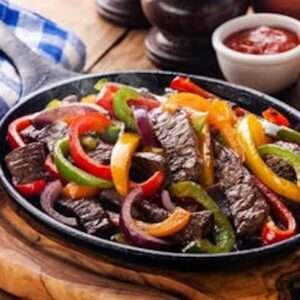 Indulge in a culinary triumph that has captured the hearts and palates of countless patrons – our renowned Beef Fajitas, a testament to flavor perfection at its finest. Every element of this dish is meticulously crafted to ensure a taste experience that lingers in your memory.
Our journey to excellence begins with tender beef, marinated overnight to achieve a symphony of flavors that dance harmoniously on your taste buds. Grilled to succulent perfection, the beef intertwines with the sizzling allure of bell peppers and onions, creating a melody of aromas that will have you salivating in anticipation.
As your senses revel in the main act, a supporting cast of delights awaits. A side of velvety refried beans, accompanied by a generous helping of Mexican rice, enriches your plate with heartwarming comfort and authentic flavors. The vibrant Mexican coleslaw adds a zesty crunch, enhancing the experience with its refreshing notes.
But that's not all – a sprinkle of cheddar cheese crowns the dish, imparting a delightful richness that harmonizes with every bite. To envelop this symphony of taste, three of our signature 8" flour tortillas await, handcrafted with love to encase the fajita perfection.
And for those with a spirit of culinary adventure, the journey can be elevated further. Immerse yourself in the creaminess of guacamole or the tangy indulgence of sour cream, adding layers of complexity to your masterpiece.
Step into our culinary realm and